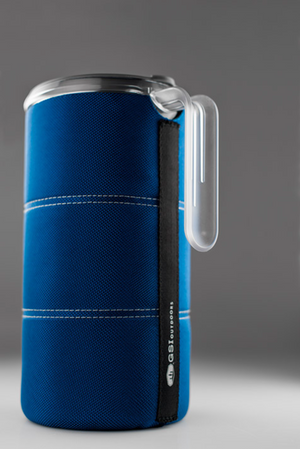 THIS PRODUCT IS ONLY AVAILABLE IN CANADA.
PORTABLE, FRENCH PRESS COFFEE

PRODUCT DESCRIPTION
Silicone ring plunger design virtually eliminates coffee 'blowby' for the

most flavourful, mud-free coffee or tea

.

Double-walled, insulated lid and ballistic nylon-wrapped cozy keeping things hot while brewing and serving.

BPA-Free carafe with sturdy molded handle is lightweight and shatter-resistant, allowing you to enjoy flavourful French Press coffee anywhere.

This thing is a tank!!! You'll have enough coffee for you and your friends (or just you 😉)!!!
TECH SPECS:
Ideal for: Backpacking, Car camping and Travel
Includes: 50 fl. oz. Carafe, Pour-Through Ltd., Insulated Sleeve, Patented Plunger Mechanism
Material: Co-polyester
Dimensions: 6.2 in x 4.8 in x 9.6 in.
Weight: 14.6 oz. (414 g)
PACKAGING:
Type: Box
Dimensions: 6.3" x 5" x 10"
Weight: 1 lb
GSI STORY:
For you, coffee is not merely black; it is not simply a beverage to be had with cream and sugar. No, coffee is a ritual, an affirmation of life, a warm embrace in the morning and a meditation on the flavour of the day to be savoured with dessert. For you, only the finest beans, the most aromatic roast and the fullest flavour will do. Coffee is a world tour, a rich journey from Kona to Colombia and from Ethiopia to Java awaking you to new experiences and new ideas. For you, GSI Outdoors has created the finest French Press coffee makers ever conceived. Regardless of where your day may take you, the lightweight, crystal-clear, shatter-resistant carafe of the GSI Outdoors line of JavaPresses will travel with you effortlessly. With foam sleeves to insulate both your hands and your coffee, our JavaPresses assure the ultimate coffee experience whether on the ocean or atop a mountain.