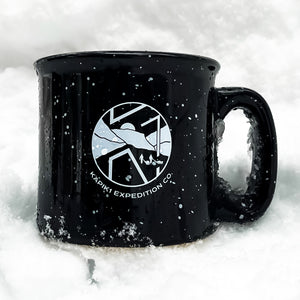 We've said it before, and we will say it again!!! Ever notice your coffee just tastes better out of your favourite mug?! So do we!!!

Introducing the second mug in the KapiK1 Expedition series. The KapiK1 Expedition Ceramic Camper Mug is heavy and shiny, but with a rustic 'camp mug' look.  Like it's blue cousin (check our store) this mug is ideal for that first cup of KapiK1 coffee in the morning- or your mid afternoon, "feet up on your desk, kick back and relax" coffee break!
Beautiful white painted logo, to match the white speckled surface of thus shiny black mug. 
#NoCoffeeNoExpedition - Makes sense, right?