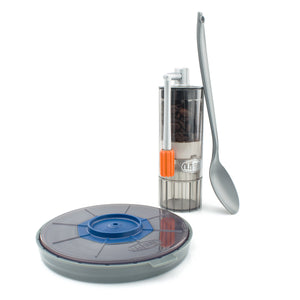 THIS PRODUCT IS ONLY AVAILABLE IN CANADA
CLEVER, COMPACTING, CAMP COFFEE COMBO
PRODUCT DESCRIPTION:
Adjustable, conical burr, ceramic coffee grinder unlocks the flavour of your favourite beans better than blade-style grinders.

Everything you need to brew up some KapiK1 coffee on your own adventure!!!

Sturdy, alloy grinder handle nests and locks in place for easy packing.

Narrow grinder silhouette fills easily from the top while the integrated cup captures all of the freshly ground goodness below, keeping everything clean.

Collapsible drip cone holds #4 filter to brew 1-12 cups of coffee.

Sturdy, silicone bellows design collapses into a 1" high, 5.6" diameter disc.

Unique flange helps centre drip cone over mugs, cups and wide-mouth bottles for stable, spill-free brewing.

Transparent drip cone base helps prevent over-filling.

Lid doubles as a trivet after brewing.

BPA-Free
TECH SPECS:
Ideal for: Car Camping , Gourmet Backpacking
Includes: Ceramic Coffee Grinder, Grinding Arm, Silicone Grip, Grounds Cup, Bearing Assembly, Collapsible #4 Drip Cone, Snap-On Cover, #4 Re-usable Java Filter, Spoon, Stuff Sack
Material: Silicone, Clear Polypropylene, Co-polyester, Ceramic, Nylon, Acetal
Item Weight: 13.5 oz.
PACKAGING:
Type: Box
Dimensions: 6.6" x 2.4" x 9.2"
Weight: 1.3 lb
GSI STORY:
There's nothing more rewarding, nothing more refreshing than the scent of freshly ground coffee floating on the mountain air. Now, with a few cranks of the sturdy alloy handle, you can unlock all of the flavour and aroma of your favourite coffee no matter where you find yourself. The Gourmet PourOver Java Set's clever, expanding silicone cone brews fresh, delicious coffee and yet collapses to just 1" high to travel anywhere. Simply set the filter on top of your favourite container, from a wide mouth water bottle to a small pot, add any brand of #4 filter, grounds and water and voila, eye-opening drip coffee just like home. The convenient cover even doubles as a trivet for the cone when you're done brewing and keeps everything clean during transport. This set is the perfect start to your mornings outdoors for years to come.