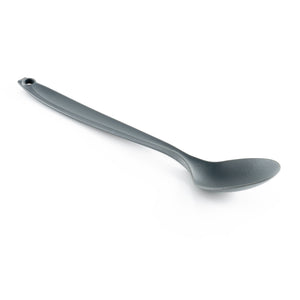 THIS PRODUCT IS ONLY AVAILABLE IN CANADA
9 INCH RUGGED FULL-SIZE CUTLER POUCH SPOON
PRODUCT DESCRIPTION:
You need something to stir that brew with. Here it is!

All-purpose, 9 inch lightweight pouch spoon is perfect for any adventure.

Includes large handle-hole for hanging or attaching together.

BPA Free.
TECH SPECS:
Ideal for: Car and Destination Camping 
Material: Acetal
Item Dimensions: 9.0" x 1.8" x 0.7"
Item Weight: 0.6 oz.
PACKAGING:
Type: Peggable, Sticker
Dimensions: 9.0" x 1.8" x 0.7"
Weight: 0.06 lbs
GSI STORY:
Perfect for scooping, scraping or stirring rehydrated pouch meals, the rugged Pouch Spoon offers a long-handled, all-purpose, camp utensil that's easily washable. With a total length of 9 inches, it also has the reach for narrow, tall backcountry cookware.